About Our 90-Day Home Warranty
Jadeck Home Inspections now stands behind all of our inspections with a 90-Day Limited Structural and Mechanical Warranty. This 90-Day Warranty is included in your home inspection at no additional charge! It comes free when you use Jadeck Home Inspections for your standard home inspection service.
The 90-Day Warranty covers repairs to items the inspector found to be in working condition at the time of inspection and that are specifically listed within the warranty. There is no deductible to pay and claims will be handled within 72 hours of a completed submission. This warranty program is open to all homeowners in Nassau County and Duval County Florida.
The 90-Day Warranty may work in conjunction with an existing warranty on the home. It is valid 90 days from the date of the inspection. All you have to do to get this warranty is notify your Home Inspector within 15 days of the inspection date that you are moving forward with buying the house, and activate your warranty online. For more information, contact Jadeck Home Inspections at 904-466-1259.
If you have questions about your existing 90-Day Warranty, call 800-544-8156 Monday through Friday from 8 a.m. until 5:30 p.m.
To see what is cov



ered by your FREE 90 Day Home Warranty, click the button below. This will tell you what is covered and the claims process.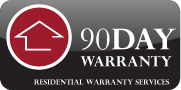 To put your FREE 90 DAY Home Warranty into effect, contact Jacob FIRST, then you will come here and click the button below and follow the instructions. It is quick and easy!